There's no denying it – the season for pumpkins galore is upon us. And let's be honest, sweet pumpkin eats are all about the spices. With this in mind, there's enough of them in this granola recipe to make it taste like a true fall food, perfect for celebrating and enjoying this fun and flavourful season. While coffee shops may have been selling their pumpkin spice lattes since August, I feel like the true beginning of pumpkin season is October, when the leaves are falling from the trees and the air is finally getting cool. To make this popular spice yourself, simply combine 4 tbsp cinnamon, 2 tbsp ginger, 1 tbsp allspice, 1 tbsp nutmeg and a touch of stevia; this is a very handy flavour combo to have at the ready in your pantry.
Because I love using seasonal flavours to make different variations of fan favourites, this recipe is a play on the previously posted, and particularly popular, PB Banana Granola (this recipe comes highly recommended!). As it is very straightforward to make, granola is one of the best recipes to get you started in the kitchen, but if you're an experienced baker, it's also a nice break from those recipes requiring complicated ratios and precise measurements. And because making granola at home enables you to control every little thing that goes in it, it your best strategy to avoid those long and questionable ingredients lists.
Before you dive in to this nourishing recipe, let's take a closer look at some of the ingredients use. Frist up: the mighty pumpkin seed (and it's butter cousin). These delicious seeds pack some serious nutrient density, due in part to their incredibly high phytosterols content. Plant sterols have multiple health benefits, not the least of which is lowering cholesterol; pumpkin seeds are also a rich source of essential minerals (especially iron, magnesium, potassium, and phosphorus). While the raw variety is very nutritious, to multiply their health benefits even further, roast them (like you will in this recipe!) to get maximal nutrition benefits.
For natural sweetness, I chose to use dates and prunes in this recipe. While dried fruit in general is not low in calories, nor low in sugar, if we're going to eat sweets regularly they might as well come in a nutrient dense package. And the natural sweetness imparted by dried fruit tends to be more satisfying (and much better for you) than an equal calorie amount of refined sugar. Prunes in particular are loaded with health promoting nutrients. Aside from there widely recognized trait of being high in soluble fibre to promote optimal digestion, prunes are a great source of vitamin A & C, potassium, and iron, and boast an impressive amount of antioxidants – one of the most of any fruit!
Lastly I wanted to touch on one of my favourite nutrient boosting ingredients to slip into recipes – protein powder. The versatility of this ingredient never ceases to amaze me – in can be slipped into most eats with minimal impact on flavour, often times enhancing it slightly. And this inconspicuous ingredient boosts one of the most important macros to be included in morning meals and snacks throughout the day. In general, protein sources make perfect snacks because they won't play havoc on your appetite or blood sugar. And maintaining steady blood sugar levels is key to keeping us going about our day calm, cool, and collected.
Highlights of making this recipe:
As this recipe contains no raw eggs, you can fearlessly lick the bowl once your granola is in the oven (an always appreciated quality).
With only two dirty bowls, a few measuring utensils, and a couple baking sheets, clean-up is no problem and can be taken care of while the granola cooks/ cools.
And requiring only 5 straight-forward steps, this recipe is a breeze to whip up – if you plan to make it on your meal prep day, I recommend making this recipe first and tossing the granola in the oven, so you can move on to your other prep tasks while it bakes.
Because this granola is cooked for a long time at a low temp, the product is nice and dehydrated. Thanks to this thorough dehydration, this granola can be easily stored in an airtight container in your pantry for up to two weeks.
As most of my recipes are, this fall inspired high protein granola is really easy to make. The trick is not "sampling" too much of the unbaked product before it makes it into the oven. Good luck, and happy pumpkin spice season!
Macros per 1/2 Cup Serving
Calories: 198
Protein: 16 g
Fat: 6 g
Carbohydrates: 24 g
Sugar: 5 g
Fibre: 7 g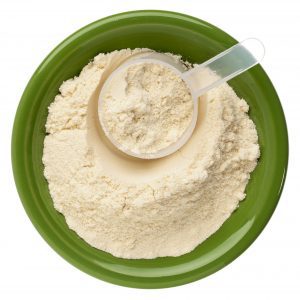 Protein Packed Pumpkin Spice Granola
Unfortunately, a lot of pumpkin spice recipes are tougher to fit into our macros. I am here to change that with my pumpkin spice protein granola. This is an incredibly straightforward, delicious, and nutritious recipe.
Instructions
Preheat oven to 250 Degrees Fahrenheit. Line two large baking sheets with tin foil. Mist with cooking spray and set aside.

In a medium bowl, combine syrup, vanilla, pumpkin seed butter and pumpkin puree. Stir to completely combine. Add protein, mix well and set aside.

In a large bowl, combine pumpkin seeds, oats, puffed wheat, psyllium husk, pumpkin pie spice, stevia, and salt. Add liquid mixture to dry ingredients. Mix well to fully combine.

Spread mixture evenly across prepared baking sheets (mixture should be quite clumpy). Bake for 60 minutes, stirring often to break apart clumps and promote even cooking (~every 20 minutes).

Allow granola to cool for ~5 minutes before adding dried fruit.
Notes
*For maximum efficiency, chop dates & prunes while the granola bakes.