Pre workout nutrition: Over the years, we've received this general question from clients in many different ways:
How important is it to eat before workout and what should be my go-to post and pre-workout meal? I am asking this because anytime I try to lift with empty stomach, I feel unable to perform.
Considering the frequency of this inquiry, we think it about time we post some key information to help others who aren't sure about this get started.
---
In short, it is important that you go into your workouts with a settled stomach and not feeling actively hungry – this means different meal timing/ composition for different individuals (specifically dictated by their level of athleticism, gender, size/ muscle mass) and also the type and duration of activity that will take place.
Generally, for workouts of a medium intensity that will last about one hour or less, having a meal with a good amount of carbs before your workout is advised (it should be a small meal with faster digesting carbs if eaten relatively close to your workout, so your stomach isn't full going into your workout) – examples of a small, fast digesting carb meal include low fat Greek yogurt and a small piece of fruit or low fat cottage cheese with jam.
Fat both before and after your workout should be minimized for optimal digestion.
Having good post workout nutrition is even more important than what you eat prior. Specifically, it is important that you have a strong protein source with fast digesting carbs (about 2x the amount of carbs as protein eg. 25 g protein, 50 g carbs). The most common choice here is a high protein smoothie with banana, berries, and low fat milk of choice (but again it is key that you consume foods that work well with your body).
Below are some fun post workout meal ideas for you to try (remember, the carb content of the meal should be roughly twice as much as the protein no matter the size of your meal):
1. Nourishing Post-Workout Smoothie.
Depending on your flavour preference, we recommend trying a few options on our website – or you could just use the liquid to solid proportions and make your own!
2. Tuna & Greens Wrap.
These wraps take a few minutes to whip up, and you can incorporate them as part of your meal prep routine.
Lay down 2 large kale/ lettuce leaves or ~1/2 cup spinach on your wrap of choice
Stuff wrap with a can of tuna mixed with light mayo
Add ~1/3 cup of your favorite beans
Season with your favorite spices and enjoy!
3. Quick Parfait.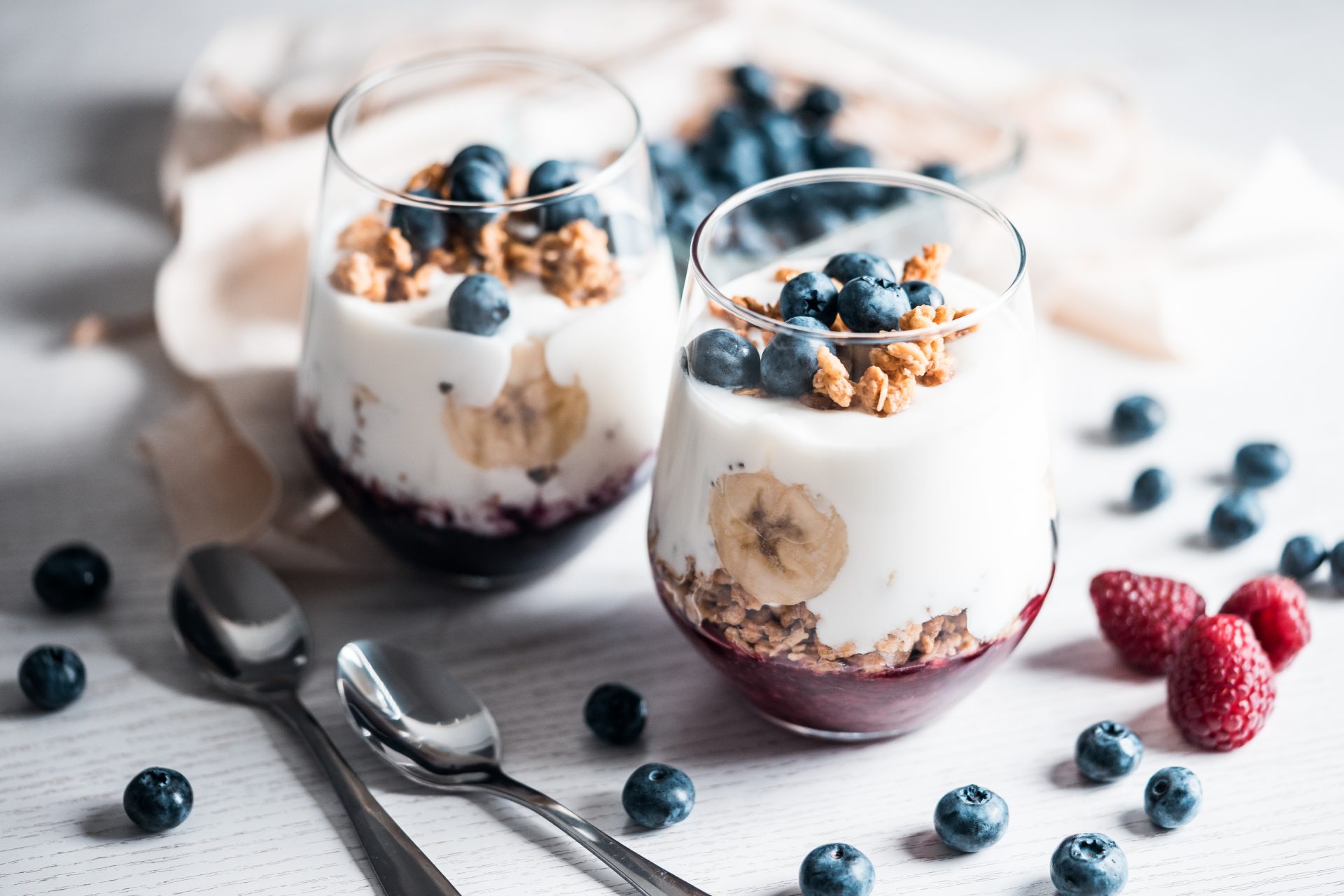 This parfait takes less than 5 minutes to prepare and looks beautifully creative instantly.
Add 1 cup of plain Greek yogurt to a to-go cup
Layer with ½ cup of blueberries and sliced banana
Add ½ cup of low fat granola
Drizzle with maple syrup to finish
4. Hummus with low fat chips/ pita bread.
Buy your favourite crackers/ pita bread and consider trying this high protein hummus recipe, made with edamame! Homemade hummus recipe here.
5. Easy Banana Split.
Place a cup of low fat Greek yogurt in a bowl, slice a banana in half and put it on top. Cover with another dollop of yogurt, sprinkle low fat granola, dark chocolate chips, and sliced strawberries. Yum!
---
If you're looking for information beyond the basics, you're encouraged to contact us for a free no-obligation consultation and see if you'd benefit from working with a coach.
Now that you have your post workout snacks ready to go, who's ready to get sweaty?